address
23101 Sherman Place Suite 150
West Hills,
California
91307
United States of America
CS Instructor Status
In Training
CSA TA
Counterstrain Certifications
CSC I
Introductory Courses
Neural Upper Quadrant (N1), Foundations of Fascial Counterstrain (F1), Lymphatic Venous Combined (2014), Arterial Dysfunction (AR), Neural Lower Quadrant (N2), Visceral (VS), Myochains and Spinal Ligs (MS1), Periosteal Dysfunction (MS2), Cartilage / SF dysfunction (MS3), Cranial Periosteum and Cartilage (CSS1), Endplate Supplemental (MS2 SUP), Epidural Ligament Supplemental (N1 SUP), Astrocytes, mediastinum & Sulcal Vessels (CSS2), Adipose, Tendon-lymphatic Chains
Counterstrain Mastery Programs
CSA Module 1 Intro: Counterstrain and the Cranial Scan, CSA Module 2: Counterstrain for the Visceral System, CSA Module 3: Counterstrain for the Lymphatic/Venous System, CSA Module 4: Counterstrain for the Arterial System, CSA Module 5: Counterstrain for the Nervous System, Part 1, CSA Module 6: Counterstrain for the Nervous System, Part 2, CS Convention 2018 Mod 1, CS Convention 2019 Mod 1, CS Convention 2019 Mod 2, CS Convention 2019 Mod 3, Counterstrain Convention 2019, CSA Module 7: Counterstrain for the Musculoskeletal System, Part 1, CS Virtual Convention 2020, CS Virtual Convention 2021
Scott Dreben, MPT, CSCI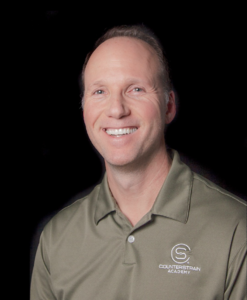 Scott Dreben, MPT, the Founder of Touch of Life Physical Therapy, holds a Master's degree in Physical Therapy from Chapman University. Scott opened his own practice, Touch of Life Physical Therapy, with his wife Deanna in 2005. Since earning his Master's in 1999, Scott has dedicated himself to enhancing his skills through continuing education coursework that emphasizes a comprehensive, holistic approach to treatment. For the past 10 years, Scott has focused primarily on the use of Counterstrain because of gentleness and the power of this comprehensive assessment and treatment system. Once he was exposed to Fascial Counterstrain he realized that he wanted to master this approach and decided to do so through the Counsterstrain Academy. Scott is a firm believer in the ever expanding knowledge that Physical Therapy has to offer and is committed to keeping pace with the newest research and professional techniques in his field.