address
3501 Lake Eastbrook Blvd SE Ste 138
Grand Rapids,
Michigan
49546
United States of America
CS Instructor Status
N/A

Introductory Courses
Neural Upper Quadrant (N1), Neural Lower Quadrant (N2), Myochains and Spinal Ligs (MS1), Foundations of Fascial Counterstrain (F1), Visceral (VS), Lymphatic Venous Combined (2014), Arterial Dysfunction (AR), Periosteal Dysfunction (MS2), Cartilage / SF dysfunction (MS3), Cranial Periosteum and Cartilage (CSS1), Astrocytes, mediastinum & Sulcal Vessels (CSS2)
Counterstrain Mastery Programs
CSA Module 1 Intro: Counterstrain and the Cranial Scan
Saxony Matousek, PT, DPT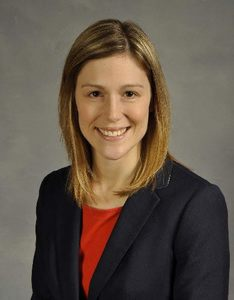 Saxony's first experience with the Counterstrain technique was as a physical therapy doctoral student at Grand Valley State University. She was assigned to an outpatient clinic in Indiana where CS was the sole manual therapy used. This was not her first internship so she was able to make comparisons between CS and traditional methods she had experienced at previous clinics. What struck her the most was the fact that patients were getting 100% better. Many patients with chronic conditions were experiencing relief quite quickly and with less effort. No unnecessary pain was produced during their treatments. These results were something she had never seen, nor would again with any other manual therapy technique. After she earned her doctorate, she took a position in Chicago at ARC Physical Therapy honing her technique in CS. She has recently moved back to her home state of Michigan where she started her own practice, Think Physical Therapy PLLC. This gentle, holistic technique that gets to the root causes of painful conditions rather than treating symptoms is too beneficial not to promote (and too fun not to practice). Saxony also works at the Grand Rapids Home for the Veterans where she serves clients with a multitude of chronic conditions and diagnoses. In addition to her Doctorate of Physical Therapy, she also has a Bachelor of Science degree in Health Communications/Public Relations and has experience as a Pilates and dance instructor.