address
110 Rehill Avenue
Somerville,
New Jersey
08876
United States of America
CS Instructor Status
N/A

Introductory Courses
Arterial Dysfunction (AR), Foundations of Fascial Counterstrain (F1), Neural Lower Quadrant (N2), Visceral (VS), Lymphatic Venous Combined (2014), Neural Upper Quadrant (N1), Myochains and Spinal Ligs (MS1), Periosteal Dysfunction (MS2), Cartilage / SF dysfunction (MS3), Cranial Periosteum and Cartilage (CSS1)
Counterstrain Mastery Programs
CSA Module 1 Intro: Counterstrain and the Cranial Scan, CSA Module 2: Counterstrain for the Visceral System, CSA Module 3: Counterstrain for the Lymphatic/Venous System, CS Convention 2018 Mod 1, CS Convention 2019 Mod 2, Counterstrain Convention 2019, CS Virtual Convention 2020, CS Virtual Convention 2021, CS Convention 2023
Spiridoula Riley, PT, DPT, LAT, ATC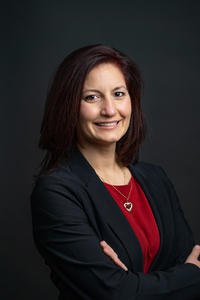 Dr. Riley has been providing outpatient services for orthopedics, post-operative care, and sports injuries at RWJBarnabas Health full-time since 2012. She graduated from Seton Hall University in 2005 with dual degrees as a Doctor of Physical Therapy and with her Master's of Science in Athletic Training. Dr. Riley's earlier positions included being a clinical consultant on the Brain Injury Continuum at JFK Hospital, Edison, NJ (2005-2012) and Athletic Trainer for the New Jersey Hitmen Junior Team (2006-2009) as well as the New Jersey Devils Youth Hockey Club (2009-2010). Always a strong advocate for Physical Therapy, Doula supports her professional organization APTA, having served as State Director of Practice, a Delegate in the House of Delegates and Federal Affairs Liaison for N.J. Doula was honored in 2010 with the American Physical Therapy Association's Emerging Leader Award. Doula discovered the benefits of Fascial Counterstrain in 2016 after her own back injury. It was at this time that she began courses through the Jones Institute and then the Counterstrain Academy. She continues to develop her skills and knowledge base in this area of manual therapy today. Doula has finished 4 marathons since 2011 and her first triathlon (Sprint distance) in July of 2021!