address
3206 Tower Oaks Blvd, Ste 350
Rockville,
Maryland
20852
United States of America
CS Instructor Status
In Training
Counterstrain Certifications
CSC I
Introductory Courses
Periosteal Dysfunction (MS2), Neural Lower Quadrant (N2), Arterial Dysfunction (AR), Foundations of Fascial Counterstrain (F1), Lymphatic Venous Combined (2014), Neural Upper Quadrant (N1), Myochains and Spinal Ligs (MS1), Visceral (VS), Cartilage / SF dysfunction (MS3), Endplate Supplemental (MS2 SUP), Cranial Periosteum and Cartilage (CSS1), Astrocytes, mediastinum & Sulcal Vessels (CSS2), Epidural Ligament Supplemental (N1 SUP), Tendon-lymphatic Chains, Adipose
Counterstrain Mastery Programs
CSA Module 1 Intro: Counterstrain and the Cranial Scan, CSA Module 2: Counterstrain for the Visceral System, CSA Module 3: Counterstrain for the Lymphatic/Venous System, CSA Module 4: Counterstrain for the Arterial System, CSA Module 5: Counterstrain for the Nervous System, Part 1, CSA Module 6: Counterstrain for the Nervous System, Part 2, CS Convention 2018 Mod 1, CS Convention 2019 Mod 1, CS Convention 2019 Mod 2, CS Convention 2019 Mod 3, Counterstrain Convention 2019, CS Virtual Convention 2020, CS Virtual Convention 2021
Manny Kim, PT, DPT, PRC, CSC I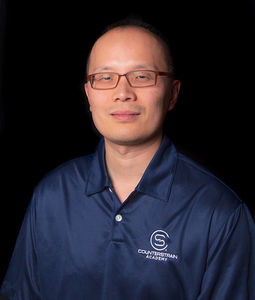 Dr. Manny Kim, DPT, PRC is an integrative physical therapist licensed in the state of Maryland and Virginia. A Chicago native, Manny received his Doctorate of Physical Therapy from Northwestern University Feinberg School of Medicine. Dr. Kim approaches every patient using a multi-system paradigm to treat the human body as a 'whole' and not just a part. His goal is to identify underlying influences and 'drivers' to postural patterns and musculoskeletal imbalances that often cause pain, dysfunction, and faulty movement patterns. Corrective strategies and interventions can then be provided once the problem is understood. He is a strong proponent of interdisciplinary collaboration with other healthcare professionals to provide the best outcomes for his patients.