address
61 Kensington Street
Uniontown,
Pennsylvania
15401
United States of America
CS Instructor Status
N/A

Introductory Courses
Myochains and Spinal Ligs (MS1), Foundations of Fascial Counterstrain (F1), Lymphatic Venous Combined (2014), Visceral (VS), Periosteal Dysfunction (MS2), Neural Upper Quadrant (N1), Arterial Dysfunction (AR), Endplate Supplemental (MS2 SUP), Neural Lower Quadrant (N2), Cranial Periosteum and Cartilage (CSS1), Astrocytes, mediastinum & Sulcal Vessels (CSS2), Cartilage / SF dysfunction (MS3)
Counterstrain Mastery Programs
Counterstrain Convention 2019, CS Virtual Convention 2021
Alec Hercik, LMT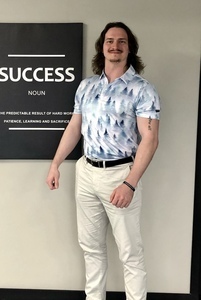 Alec Hercik, LMT practices Fascial Counterstrain (FCS) with the mindset of providing value and serving others. Suffering from his own chronic illness, Alec tried countless modalities and treatment methods, traveling all over the United States attempting to alleviate his chronic pain and dysfunction with minimal success. His breakthrough finally came when he was referred to internationally renowned Fascial Counterstrain originator Brian Tuckey, PT, OCS, JSCCI and his team at Tuckey and Associates Physical Therapy. After committing to FCS as his primary treatment method and working closely with Brian and his team, Alec found his health and quality of life progressively restored and in many ways found himself better than ever. After experiencing such life changing results, Alec committed to learning FCS so he could likewise help others. Alec enjoys working with patients of all kinds, anyone and everyone from high level athletes to chronic pain patients and complex cases. In his spare time Alec enjoys outdoor recreation of all sorts, working out, being active in his local church and spending time with family, friends and his black lab, Gator. Alec now works full time at Tuckey and Associates Physical Therapy in Frederick, Maryland but maintains his Pennsylvania license. Private appointments in the SWPA area are available by individual requests, however they are subject to schedule and availability.