address
7023 Little River Turnpike
Annandale,
Virginia
22003
United States of America
CS Instructor Status
N/A

Introductory Courses
Foundations of Fascial Counterstrain (F1), Visceral (VS), Lymphatic Venous Combined (2014), Arterial Dysfunction (AR), Neural Upper Quadrant (N1), Neural Lower Quadrant (N2), Myochains and Spinal Ligs (MS1), Periosteal Dysfunction (MS2), Cartilage / SF dysfunction (MS3)
Counterstrain Mastery Programs
CSA Module 1 Intro: Counterstrain and the Cranial Scan, CS Virtual Convention 2020, CSA Module 2: Counterstrain for the Visceral System, Counterstrain Convention 2019, CS Virtual Convention 2021
Manisha Parikh, PT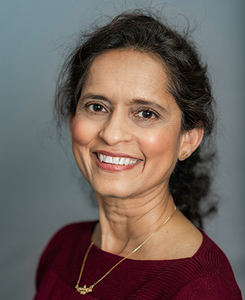 Manisha loves taking care of patients and restoring their functionality, no matter their age or the challenge they face. From acute to chronic dysfunctions, and newborns (Torticollis) to seniors, she shares in the victory of a healed patient and has for her more than 30 years as a physical therapist. Manisha strongly believes in learning new techniques to help her patients. She is committed to continuing education, including when it comes to manual techniques such as Integrative Manual Therapy, Fascial Counterstrain, Muscle energy, and the McKenzie techniques for spine. She and her colleagues at Ortho PT of NOVA are among an elite group of physical therapists nationwide receiving mastery level instruction in a groundbreaking area of physical therapy known as Counterstrain. This treatment involves gentle, but very profound manual techniques that treat the root causes of dysfunctions, not just the symptoms. Manisha is training with the Jones Institute and the Counterstrain Academy. Besides English Manisha is fluent in Hindi, Gujarati and Urdu.