address
LORTON LOCATION: 9447B Lorton Market Street #250 ALEXANDRIA LOCATION: 5695 King Centre Dr.
Lorton and Alexandria,
Virginia
22079
United States of America
CS Instructor Status
N/A

Introductory Courses
Foundations of Fascial Counterstrain (F1), Neural Lower Quadrant (N2), Lymphatic Venous Combined (2014), Periosteal Dysfunction (MS2), Myochains and Spinal Ligs (MS1), Neural Upper Quadrant (N1), Arterial Dysfunction (AR), Visceral (VS)
Counterstrain Mastery Programs
CSA Module 1 Intro: Counterstrain and the Cranial Scan, CS Convention 2019 Mod 3, Counterstrain Convention 2019, CS Virtual Convention 2020
Lynn Josephs, PT, MSPT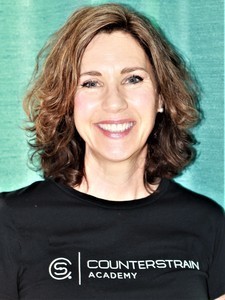 My passion has always been helping people turn off pain, control symptoms, and maximize function so they can enjoy their life to the fullest. In 2007 I had been practicing PT for 15 years when I took my first classic counterstrain course. It dramatically changed the way I assessed and treated patients. After taking many classic counterstrain courses, I began to train rigorously in Fascial Counterstrain. I deeply value that this incredibly powerful technique, like no other manual technique I have been exposed to in almost 30 years of practice, targets the source of a patient's dysfunction. I can rely on the specificity of the technique to guide the treatment whether I am working with a person living with a connective tissue disorder, dysautonomia, chronic headaches, Lyme disease, chronic pain, or a professional athlete. It is gratifying to see the relief and hope patients with a history of unresolved vestibular, pelvic health, lymphatic, or digestive dysfunction feel after experiencing Fascial Counterstrain. I feel a tremendous amount of responsibility when a patient trusts me to work with them in physical therapy. They are sharing their most valuable resource with me, their time. Fascial Counterstrain enables me to give them the best care I can.