address
1009 WEST MAIN ST.
WAYNESBORO,
Virginia
22980
United States of America
CS Instructor Status
In Training
CSA TA
Counterstrain Certifications
CSC I
Introductory Courses
Visceral (VS), Lymphatic Venous Combined (2014), Arterial Dysfunction (AR), Neural Upper Quadrant (N1), Neural Lower Quadrant (N2), Foundations of Fascial Counterstrain (F1), Myochains and Spinal Ligs (MS1), Periosteal Dysfunction (MS2), Cartilage / SF dysfunction (MS3), Cranial Periosteum and Cartilage (CSS1), Endplate Supplemental (MS2 SUP), Epidural Ligament Supplemental (N1 SUP), Astrocytes, mediastinum & Sulcal Vessels (CSS2), Adipose
Counterstrain Mastery Programs
CSA Module 1 Intro: Counterstrain and the Cranial Scan, CSA Module 2: Counterstrain for the Visceral System, CSA Module 3: Counterstrain for the Lymphatic/Venous System, CS Convention 2018 Mod 1, CSA Module 4: Counterstrain for the Arterial System, CS Virtual Convention 2020, CSA Module 5: Counterstrain for the Nervous System, Part 1, CSA Module 7: Counterstrain for the Musculoskeletal System, Part 1, Counterstrain Convention 2019, CS Virtual Convention 2021, CSA Module 6: Counterstrain for the Nervous System, Part 2, CS Convention 2023
Christine Wood, PT, DPT, LMT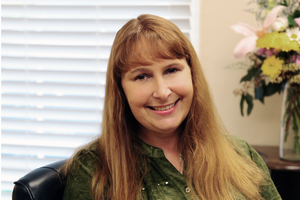 Christine Wood, PT, DPT, LMT, earned a physical therapy degree from the University of Wisconsin in 1992, a doctorate in physical therapy from Virginia Commonwealth University in 2009 and a massage therapy license in 2018. Since the very beginning of her career she has been driven to help people heal and live their lives free of pain. Christine took her first Fascial Counterstrain course in 2011. The power and versatility of the technique combined with the anatomy-based science was an immediate draw for her. Once she experienced the way it honors the body both by its gentleness and by its systematic approach to finding what the body needs, she was hooked. Realizing the inherent weaknesses of the current medical model, Christine obtained a massage therapy license so she could provide Fascial Counterstrain to people without the need for a doctor's referral. Christine has been a teaching assistant for the Jones Institute since 2014 and for Counterstrain Academy since 2020. She is also enrolled in the Academy's Instructor Training Program and will soon be bringing this knowledge to other practitioners across the country. Christine is the owner of Horizons Therapy in Waynesboro, VA.