Elmhurst,
Illinois
60126
United States of America
CS Instructor Status
N/A

Introductory Courses
Periosteal Dysfunction (MS2), Myochains and Spinal Ligs (MS1), Neural Lower Quadrant (N2), Neural Upper Quadrant (N1), Arterial Dysfunction (AR), Foundations of Fascial Counterstrain (F1), Lymphatic Venous Combined (2014), Visceral (VS), Epidural Ligament Supplemental (N1 SUP), Cranial Periosteum and Cartilage (CSS1), Cartilage / SF dysfunction (MS3)
Counterstrain Mastery Programs
CSA Module 1 Intro: Counterstrain and the Cranial Scan, CS Virtual Convention 2020, Counterstrain Convention 2019, CS Virtual Convention 2021
Amie King, PT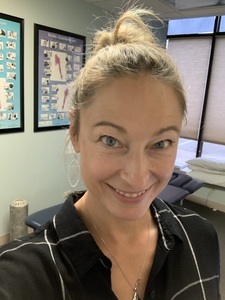 I am incredibly grateful to have found Counterstrain over 8 years ago, after 14 years of practicing "traditional" manual physical therapy. It was a complete game changer and the missing link in what can truly make positive and functional progress with difficult chronic conditions. Additionally, for my patients with acute or sports/work injuries, Counterstrain allows me to heal people quicker, more wholly, and more comfortably. The work and discoveries being done in the world of fascial Counterstrain are incredibly exciting and anyone close to me knows I "light up like a Christmas tree" (as one friend said) whenever I talk about this life-changing work. I enjoy treating all kinds of conditions from neck and back pain to headaches, osteoarthritis, tendon and overuse issues, scoliosis and even neurological conditions like cerebral palsy. Please reach out with any questions you might have!