address
40308 Greenwood Way
Oakhurst,
California
93644
United States of America
CS Instructor Status
N/A

Introductory Courses
Myochains and Spinal Ligs (MS1), Neural Upper Quadrant (N1), Visceral (VS), Lymphatic Venous Combined (2014), Foundations of Fascial Counterstrain (F1), Neural Lower Quadrant (N2), Arterial Dysfunction (AR), Periosteal Dysfunction (MS2), Cartilage / SF dysfunction (MS3), Cranial Periosteum and Cartilage (CSS1), Astrocytes, mediastinum & Sulcal Vessels (CSS2), Epidural Ligament Supplemental (N1 SUP), Tendon-lymphatic Chains
Counterstrain Mastery Programs
CS Convention 2018 Mod 1, CS Virtual Convention 2020, Counterstrain Convention 2019, CS Virtual Convention 2021, CS Convention 2023
Charlene Scharper, RN, CPT, HC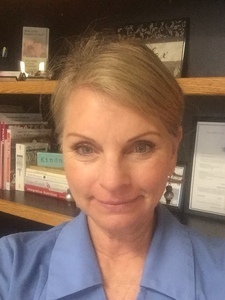 I have worked in hospital settings as a Registered Nurse for over 20 years. I gained my Personal Trainer certificate in 1995 and taught Jazzercise as the owner for over 15 years. I am a 2014 graduate of INN obtaining my Health Coaching certificate. I work closely with my clients to help them obtain their highest level of optimal health. Circulating blood through healthy movement is the very best medicine that can ever be provided, the best antidepressant, antibiotic, antiviral, energy pill and even pain reliever. From my own experience, it can be very discouraging to get up and move when you are in pain. After experiencing firsthand, as a patient suffering from concussion syndrome and chronic back pain, relief with Fascial Counterstrain Therapy (FCS), I immediately began ongoing training through The Jones Institute for Fascial Counterstrain. Today, I have completed every Jones Institute class offered and use FCS therapy to help many men & women suffering from chronic pain of all sorts. I also instruct clean living, as well as disease management through nutrition and exercise. I believe that the best health insurance you can invest in, is your own health and wellness!